» Banned From Utopia's Concert Tours 2015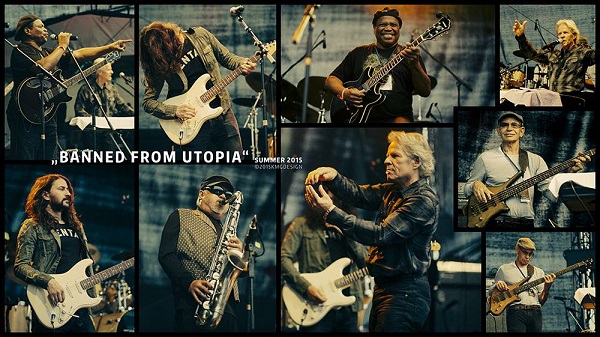 The Band
Albert Wing - Frank Zappa 1988 - tenor sax, soprano sax
Tom Fowler - Frank Zappa 1973-75, 1978 - bass guitar
Ray White - Frank Zappa 1976-84 - vocals, guitar
Robert (Bobby) Martin -Frank Zappa 1981-88 - vocals, keyboards, sax, French horn
Robbie Mangano - Grand Mothers of Invention - guitar, vocals
Joel Taylor - Drums Stanley Clarke, Allan Holdsworth
15.10.2015 Freising (D) Lindenkeller www.lindenkeller-live.de
16.10.2015 Velden am Wörthersee (A) Bluesiana http://bluesiana.wedl.ws/
17.10.2015 Burglengenfeld (D) VAZ Pfarrheim www.power-concerts.de
19.10.2015 Duisburg (D) Grammatikoff www.grammatikoff.de
20.10.2015 Bolzano/Bozen-Steinegg (I) Steinegg Live www.steinegglive.com
21.10.2015 København (DK) Amager Bio www.amagerbio.dk
22.10.2015 Göteborg (S) Nefertiti www.nefertiti.se
...
» ZAPPA in der Oper ???
What Would Zappa Do?
Die letzte Stunde von Radio WWZD
Uraufführung - Neuköllner Oper
Ab 17. September
Konzept und Regie: Sommer Ulrickson
Konzept und Komposition: Moritz Gagern
Ausstattung: Maira Bieler
Von und mit: Sommer Ulrickson, Moritz Gagern,
Christoph Schüchner, Michael Weilacher
Wir hören und sehen die letzte Sendung des Piratensenders
WWZD. Jeden Moment wird der Strom .........
» 2te Heubacher Zappa-Nacht
Am 17.10.2015 ruft Heubach (Nähe Stuttgart) zur 2ten Zappa-Nacht.
JIM COHEN: The Master of Ceremonies at the annual Zappanale festival
IVENTIONIS MATER extended Version:
Inventionis Mater plays Joe's Garage ACT I und hat sich extra für dieses Konzert mit zwei weiteren Musiker verstärkt.
Pierepaolo Romani,Klarinette und Bassklarinette; Andrea Pennati, Gitarre; Nazareno Caputo, Vibraphon; Stevan Joka, Gitarre;
THE SAMSÂRA BAND:
Tickets @ www.easyticket.de
» Mats Öberg – Exclusive Konzert - 14.07.2015
Mats Öberg schaut auf dem Weg nach Bad Doberan in Berlin vorbei und gibt ein exklusives Club-Konzert am 14.07. 2015, 21.30 Uhr, in der Jansen Bar Berlin.
» Gedruckte Woerter
Hallo Freunde der gedruckten Wörter
Ich möchte euch gern über ein neues und wie ich finde
sensationelles FANPROJEKT informieren.
Ja und leider schon ausverkauft (!)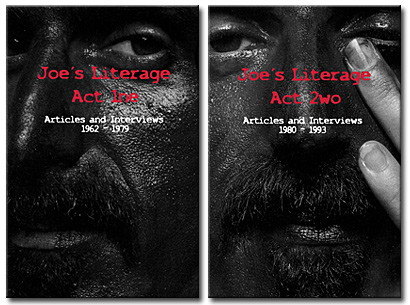 Joe´s Literage Act 1ne & Act 2wo

Page 4 of 6
Warning
: Illegal string offset 'active' in
/www/htdocs/w00be275/zappanale/community/templates/arf/html/pagination.php
on line
94
Warning
: Illegal string offset 'active' in
/www/htdocs/w00be275/zappanale/community/templates/arf/html/pagination.php
on line
100
Warning
: Illegal string offset 'active' in
/www/htdocs/w00be275/zappanale/community/templates/arf/html/pagination.php
on line
94
Warning
: Illegal string offset 'active' in
/www/htdocs/w00be275/zappanale/community/templates/arf/html/pagination.php
on line
100
Warning
: Illegal string offset 'active' in
/www/htdocs/w00be275/zappanale/community/templates/arf/html/pagination.php
on line
94
Warning
: Illegal string offset 'active' in
/www/htdocs/w00be275/zappanale/community/templates/arf/html/pagination.php
on line
100
Warning
: Illegal string offset 'active' in
/www/htdocs/w00be275/zappanale/community/templates/arf/html/pagination.php
on line
94
Warning
: Illegal string offset 'active' in
/www/htdocs/w00be275/zappanale/community/templates/arf/html/pagination.php
on line
100
Warning
: Illegal string offset 'active' in
/www/htdocs/w00be275/zappanale/community/templates/arf/html/pagination.php
on line
94
Warning
: Illegal string offset 'active' in
/www/htdocs/w00be275/zappanale/community/templates/arf/html/pagination.php
on line
100
Warning
: Illegal string offset 'active' in
/www/htdocs/w00be275/zappanale/community/templates/arf/html/pagination.php
on line
94
Warning
: Illegal string offset 'active' in
/www/htdocs/w00be275/zappanale/community/templates/arf/html/pagination.php
on line
100