» Where's the beer? - Here's the DVD!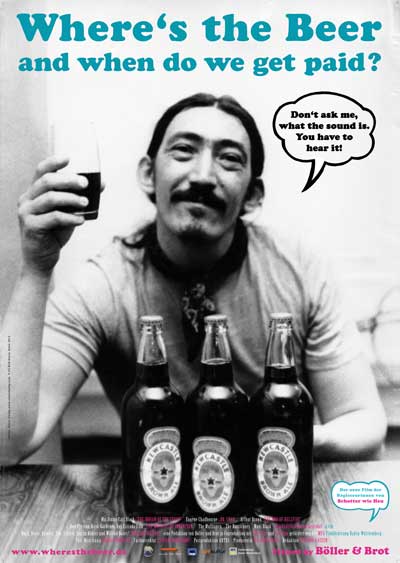 ....jetzt ist es soweit!

Der Film über den legendären Zappa-Drummer Jimmy Carl Black
ist seit kurzem im DVD-Kopierwerk,
und 500 Exemplare sind noch rechtzeitig vor Weihnachten zum versenden bereit.
Am 12.12.2014 ist offizieller Verkaufsstart, aber registrierte BEER-Fans kommen natürlich vorher zum Zug.
Auf der DVD zusätzlich zum Film 45 min. (!) BONUSMATERIAL
und unveröffentlichte Szenen z.B.:
"WHAT WAS ZAPPA REALLY LIKE?"
"INDIANER"
"JIMMY'S GOT EMAILS" ...
und vieles mehr.
Als besonderes Extra mit dabei
ist der original "WHERE'S THE BEER..."-BIERDECKEL!
Das Ganze gibt es zum Preis von EUR 16,90 Euro (+ 3 Euro Versand).
Zum Bestellen genügt eine E-Mail mit Liefer- und Rechnungsanschrift an:
This e-mail address is being protected from spambots. You need JavaScript enabled to view it
Die ersten 5 Besteller erhalten ein
HANDBEDRUCKTES "WHERE'S THE BEER"-T-SHIRT
(Schwarz mit weißem Aufdruck , Größe XL oder L)
oder nach Wunsch das selbe als Stofftasche.
Natürlich gibt es auch original Beer PLAKATE:
gerollt: 8 Euro + 6 Euro Versand (=14 Euro)
gefaltet: 8 Euro + 3 Euro Versand (= 11 Euro)
DVD + Plakat gefaltet: 23,90 + 3 Euro Versand (= 26,90 Euro)
http://www.wheresthebeer.de/
Nur solange der Vorrat reicht - Weihnachten rückt näher!
BÖLLER UND BROT GbR
Gerokstraße 37
D-70184 Stuttgart
http://www.wheresthebeer.de
This e-mail address is being protected from spambots. You need JavaScript enabled to view it
» Auch bei der Verpflegung zappaesque?
Ganz im Sinne Frank Zappas, wollten wir die Essens- und Getränkestände auf das Wesentliche konzentrieren: Kaffee und Tabak.

Da Kaffee, Tabak und Meeresluft nicht satt machen, fragen wir doch lieber nach Eurer Meinung zu den Hunger und Durst stillenden Ständen der Zappanale #25.
» Banned from Utopia – European Tour
Nachdem Banned from Utopia auf der Zappanale #24 nach Jahren erstmals wieder gemeinsam auf der Bühne standen, spielen sie sich nun so langsam warm für ihren Auftritt auf der Z#26. Nun in leicht veränderter Besetzung – Jamie Kime hat sozusagen das Lager gewechselt.
Robert (Bobby) Martin -Frank Zappa 1981-88 - vocals, keyboards, sax, French horn
Ray White - Frank Zappa 1976-84 - vocals, guitar
Tom Fowler - Frank Zappa 1973-75, 1978 - bass guitar
Albert Wing - Frank Zappa 1988 - tenor sax, soprano sax
Chad Wackerman - Frank Zappa 1981-88 - drums
Jamie Kime - Zappa Plays Zappa 2006 - 2012 guitar, vocals
» Heubacher Zappanacht – 11.10.2014
Die lange Zappa-Nacht im süddeutschen Raum am 11.10.2014. Mit Jim Cohen, Fried Dähn & the Brains sowie der Samsâra Band und bis in den Sonnenaufgang Musik aus der Dose. Die Tickets sind begrenzt und demnächst bei www.easyticket.de erhältlich.
Veranstaltungsort:QLTourraum Übelmesser, 73540 Heubach (Nähe Stuttgart)
arfarfarf
» Jahreshauptversammlung Arf Society e.V. 2014
Die diesjährige JHV findet am 25.10.2014, wie gewohnt in den Räumlichkeiten, Am Markt 3 in Bad Doberan, statt.
Starten wird die JHV um 14:00 Uhr und endet wie gewöhnlich spät in der Nacht.

Die Einladung sowie weitere Infos folgen mit dem Arf-Dossier und per Mail.
Eventuelle Rückfragen bitte an den This e-mail address is being protected from spambots. You need JavaScript enabled to view it
Günstige Übernachtet bietet das Haus der Horizonte – inkl. gemeinsamen Frühstück, bzw. einer der vielen privaten regionalen Anbietern. Für Info und booking hier klicken: Haus der Horizonte, und beim Buchen das Zauberwort "JHV arf society" nennen.
arfarfarf
Page 6 of 6
Warning
: Illegal string offset 'active' in
/www/htdocs/w00be275/zappanale/community/templates/arf/html/pagination.php
on line
94
Warning
: Illegal string offset 'active' in
/www/htdocs/w00be275/zappanale/community/templates/arf/html/pagination.php
on line
100
Warning
: Illegal string offset 'active' in
/www/htdocs/w00be275/zappanale/community/templates/arf/html/pagination.php
on line
94
Warning
: Illegal string offset 'active' in
/www/htdocs/w00be275/zappanale/community/templates/arf/html/pagination.php
on line
100
Warning
: Illegal string offset 'active' in
/www/htdocs/w00be275/zappanale/community/templates/arf/html/pagination.php
on line
94
Warning
: Illegal string offset 'active' in
/www/htdocs/w00be275/zappanale/community/templates/arf/html/pagination.php
on line
100
Warning
: Illegal string offset 'active' in
/www/htdocs/w00be275/zappanale/community/templates/arf/html/pagination.php
on line
94
Warning
: Illegal string offset 'active' in
/www/htdocs/w00be275/zappanale/community/templates/arf/html/pagination.php
on line
100
Warning
: Illegal string offset 'active' in
/www/htdocs/w00be275/zappanale/community/templates/arf/html/pagination.php
on line
94
Warning
: Illegal string offset 'active' in
/www/htdocs/w00be275/zappanale/community/templates/arf/html/pagination.php
on line
100
Warning
: Illegal string offset 'active' in
/www/htdocs/w00be275/zappanale/community/templates/arf/html/pagination.php
on line
94
Warning
: Illegal string offset 'active' in
/www/htdocs/w00be275/zappanale/community/templates/arf/html/pagination.php
on line
100