Frank Zappa - Eat That Question
Fast unbemerkt (ausgenommen - BerndV + Rührer -
) läuft seit dem 08.12.2016 in ausgewählten Kinos die Dokumentation von Thorsten Schuette.
Filmtext von filmstart.de:
Inhaltsangabe & Details
FSK ab 12 freigegeben

Dokumentation über den berühmten, mit nur 52 Jahren verstorbenen Rockmusiker Frank Zappa, bestehend aus Konzertaufnahmen, Nachrichtenschnipseln und Interviews, die über eine Zeitspanne von 25 Jahren geführt wurden: im Fernsehen, in Wohnzimmern, Aufnahmestudios, Konzerthallen und auf Flughäfen. 1940 in Baltimore, Maryland geboren, nahm Frank Zappa in seiner Karriere mehr als hundert Alben auf, für die er sang, unterschiedliche Instrumente einspielte und produzierte. Er prägte die Rockmusik musikalisch, weil er seine Lieder collagenartig komponierte und verschiedene Stile bediente, er prägte sie mit seinen aufs Zeitgeschehen zielenden, satirischen und absurden Texten – und mit seinem markanten Äußeren. Markenzeichen waren Zappas Mähne aus lockigen Haaren und sein schwarzer, zur T-Form gebogener Bart.
Den Trailer könnt ihr euch hier schon einmal reinziehen. http://www.filmstarts.de/kritiken/243701/trailer/19553403.html
...ja und die Auswahl der ausgewählten Lichtspielorte findet ihr hier: http://www.filmstarts.de/kritiken/243701/kinoprogramm/
MOSAE ZAPPA
Samstag 26.11.2016 in Landgraaf (NL)
Das MOSAE ZAPPA FESTIVAL reiht sich dieses Jahr wieder in die Zappa-Veranstaltungen ein.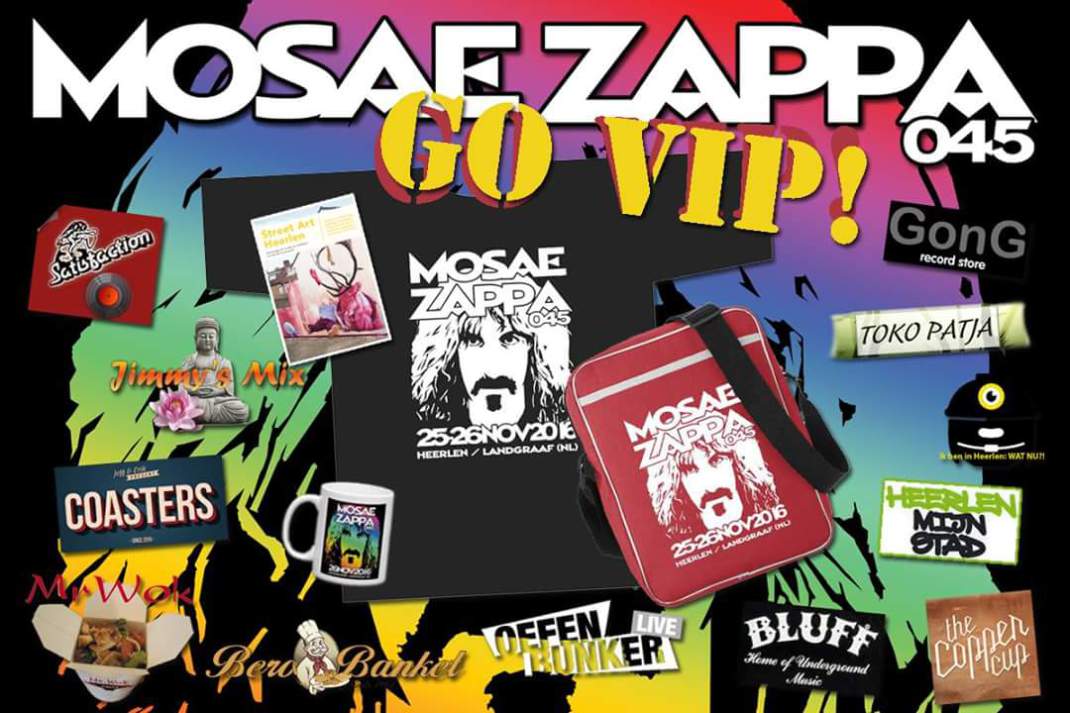 Das LineUp verspricht einen schönen zappaesken Abend, zu hören gibts die Bands: The Foolz, Bits From Hell, The Wrong Object und John's Got a Sausage.

Mehr Infos unter: www.mosaezappa.com oder auf Facebook.
Tickets gibt es über die Website des Veranstaltungsortes: Oefenbunker, Landgraaf (NL)
Yellow Snow Crystals in Hagen
Donnerstag, 24.11.2016, 20:00 in Hagen
Yellow Snow Crystals
5 Zappaisten: Paul Hubweber (Posaune, Gesang), Alex Morsey (Kontrabass, Sousaphon, Guembri, Gesang), Dominik Mahnig (Schlagzeug, Gesang), Gerhard Horriar (Gesang, Sprecher) und Martin Verborg (Violine, Saxofone, Gesang) bieten ein Programm, das von der Musik Frank Zappas inspiriert ist und darüber hinausgeht.
ZAPPA! in Leipzig
Nach dem Festivasommer startet die InDoorSaison – und das natürlich auch mit Frank. Oder besser gesagt mit seiner Musik.
Am 12.10. gibt es in Leipzig ein wohl einmaliges Konzert: mit dabei sind Napoleon, Mats Öberg und Morgan Agren (Mats Morgan Band), Werner Neumann (Die Drei vom Rhein).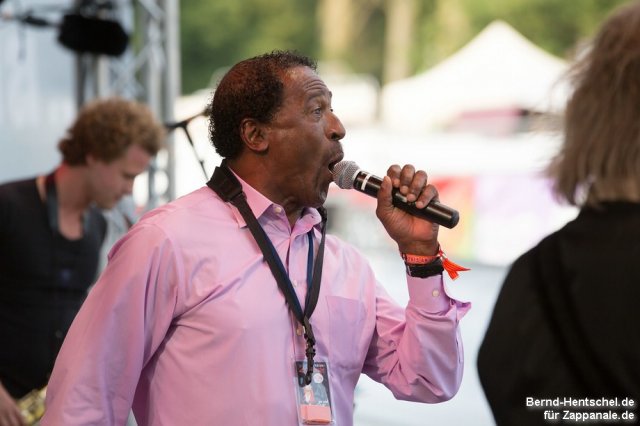 Frank Zappa, der bereits mit 15 Jahren Stücke für Orchester komponierte und sich mit seinen "Mothers of Invention" in den 60er Jahren zu einem sarkastischen Kritiker und Verächter der amerikanischen Bürgerlichkeit entwickelte, hat mit seinen außergewöhnlichen Kompositionen Musikgeschichte geschrieben. Aus diesem reichen Fundus schöpfen u.a. Zappas ehemaliges Bandmitglied Napoleon Murphy Brock und Chefdirigent Kristjan Järvi, um einmal mehr aufzuzeigen, dass kompositorische Komplexität und orchestrales Denken nicht allein der "Klassik" vorbehalten sind. Die Musik von Frank Zappa wurde orchestriert von Gene Pritsker und Charles Coleman.
MDR SINFONIEORCHESTER
Napoleon Murphy Brock | Saxophon
Mats Öberg | Keyboards
Werner Neumann | E-Gitarre
Mark Haanstra | E-Bass
Morgan Ågren | Schlagzeug
Kristjan Järvi | Dirigent
Mittwoch | 12.10. | 20 Uhr | Werk 2, Halle A
Music is the best!
Heubacher Zappanacht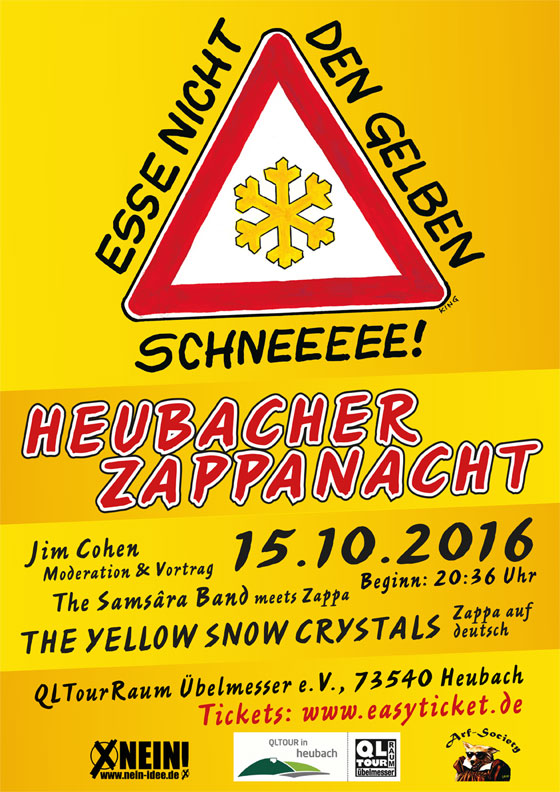 15.10.2016, Beginn: 20:36 Uhr
Jim Cohen – Moderation & Vortrag
The Samsâra Band – meets Zappa
THE YELLOW SNOW CRYSTALS – Zappa auf deutsch
QLTourRaum Übelmesser e.V., 73540 Heubach
Tickets: www.easyticket.de
Page 2 of 6
Warning
: Illegal string offset 'active' in
/www/htdocs/w00be275/zappanale/community/templates/arf/html/pagination.php
on line
94
Warning
: Illegal string offset 'active' in
/www/htdocs/w00be275/zappanale/community/templates/arf/html/pagination.php
on line
100
Warning
: Illegal string offset 'active' in
/www/htdocs/w00be275/zappanale/community/templates/arf/html/pagination.php
on line
94
Warning
: Illegal string offset 'active' in
/www/htdocs/w00be275/zappanale/community/templates/arf/html/pagination.php
on line
100
Warning
: Illegal string offset 'active' in
/www/htdocs/w00be275/zappanale/community/templates/arf/html/pagination.php
on line
94
Warning
: Illegal string offset 'active' in
/www/htdocs/w00be275/zappanale/community/templates/arf/html/pagination.php
on line
100
Warning
: Illegal string offset 'active' in
/www/htdocs/w00be275/zappanale/community/templates/arf/html/pagination.php
on line
94
Warning
: Illegal string offset 'active' in
/www/htdocs/w00be275/zappanale/community/templates/arf/html/pagination.php
on line
100
Warning
: Illegal string offset 'active' in
/www/htdocs/w00be275/zappanale/community/templates/arf/html/pagination.php
on line
94
Warning
: Illegal string offset 'active' in
/www/htdocs/w00be275/zappanale/community/templates/arf/html/pagination.php
on line
100
Warning
: Illegal string offset 'active' in
/www/htdocs/w00be275/zappanale/community/templates/arf/html/pagination.php
on line
94
Warning
: Illegal string offset 'active' in
/www/htdocs/w00be275/zappanale/community/templates/arf/html/pagination.php
on line
100